This is the second part of the featured article on Rapyuta Robotics, the domestic market share leader (for three consecutive years from 2020 to 2022) in the picking assist AMR, which is increasingly being introduced as a logistics robot.
In the first part, we focused on the technical and functional strengths of Rapyuta Robotics' picking assist AMR.
トラロジ|物流領域におけるTransformationに特化したメディア
we interview Rapyuta Robotics, which has the largest market …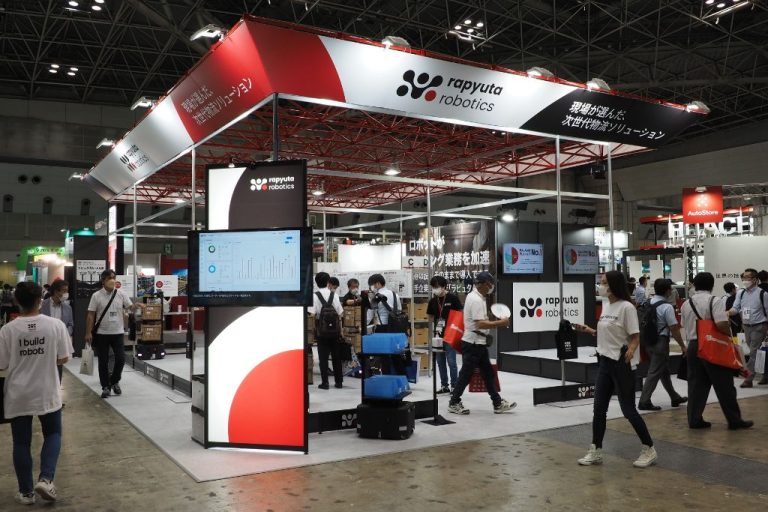 In this second part, we would like to address the implementation program that the company offers to ensure the effectiveness of this solution, which is superior in terms of technology and functionality, as well as the level of customer success.
Promotional video of "PA-AMR" by Rapyuta Robotics
Continuing from the first part, we interviewed Mr. Ryo Mori, Executive Officer and Business Supervisor of Rapyuta Robotics.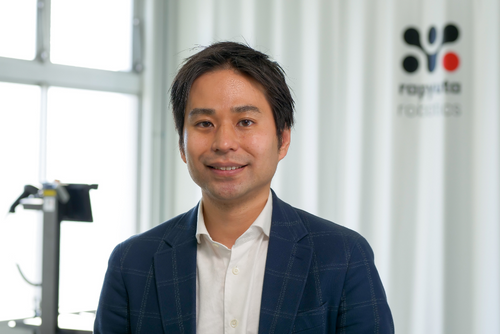 Providing a reliable program that guarantees cost-effectiveness and lowers the hurdles to AMR implementation.
In the first part of this article, we talked about the functional advantages of AMR and the strengths of Rapyuta Robotics. Now, we would like to continue with the business and support aspects, or rather, we would like to ask you what kind of efforts Rapyuta Robotics is making, other than the functions themselves, during the period between when customers consider AMR implementation and when they actually implement and start using the system.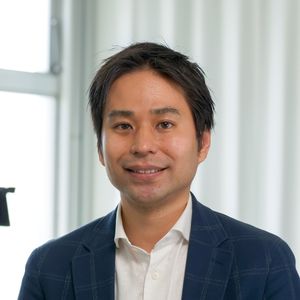 There are two major features in terms of business and support. Both are designed to ensure that our clients obtain the benefits of AMR implementation.
The first is the provision of an implementation program aimed at reducing the uncertainty or risk associated with AMR adoption. In June 2022, we began offering a "cost-effectiveness guarantee program" for subscription-based AMR usage. Most customers will be introducing AMR for the first time, with high expectations for productivity gains but also with considerable concerns about whether they will be realized. The aim of the program is to alleviate these concerns. Before introducing AMR, we conduct detailed simulations of the implementation plan and expected outcomes, and set a target productivity level. If this target is not achieved after implementation, the subscription fee for the AMR will be reduced accordingly. Therefore, customers can start using AMR with peace of mind, as long as they are satisfied with the targeted productivity level.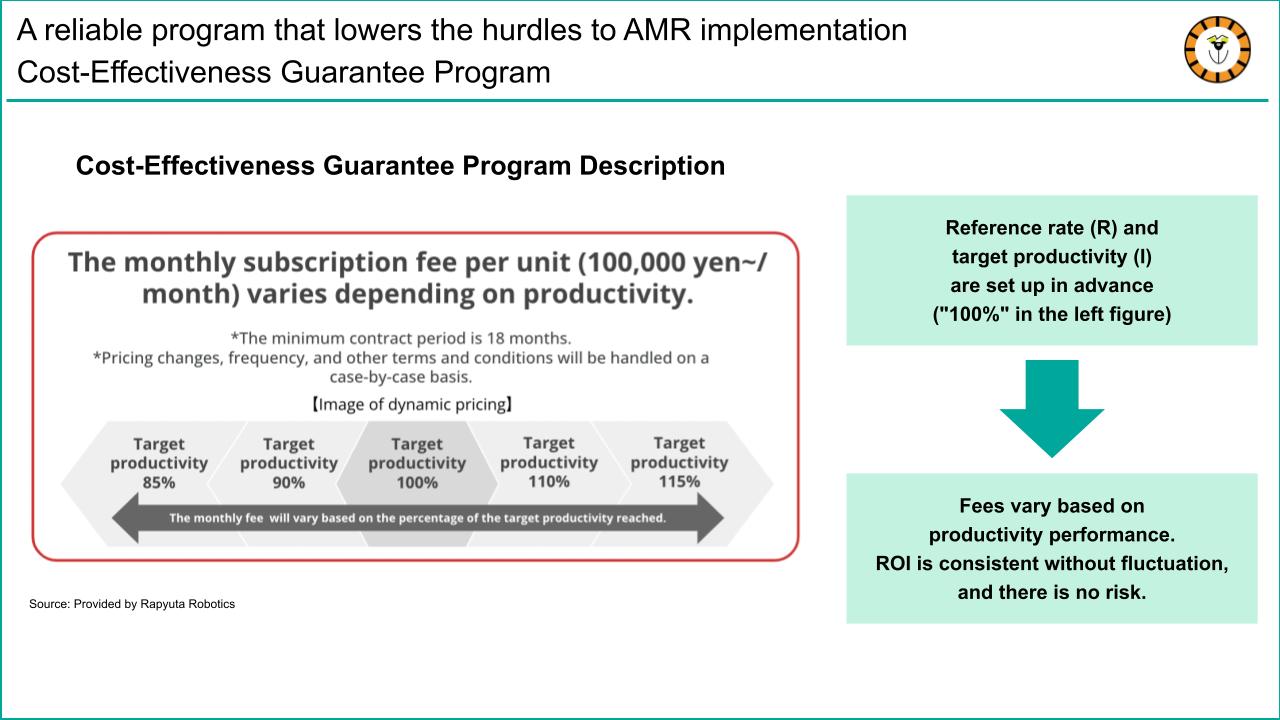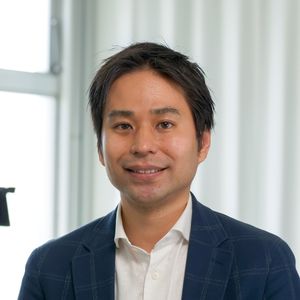 Additionally, we also offer the "Experience Full-Scale Implementation Program". Although it may sound confusing whether it is just an experience or an actual implementation, it is exactly that – an experience, but in a real environment! We have noticed that Proof of Concept (PoC) trials tend to have a strong trial nature, which may not lead to thorough utilization and lack of decision-making, resulting in many cases of mid-trial termination. Therefore, instead of a trial, we offer a full-scale 1.5-month implementation program where customers can operate their business using AMR, while we, as Rapyuta, demonstrate the effectiveness of AMR during the implementation period. If the customer feels satisfied with the expected benefits, they can continue to use the service. Since this is a trial program, system integration with WMS and other systems will not be performed, but AMR will be run by linking data to AMR in a batch format.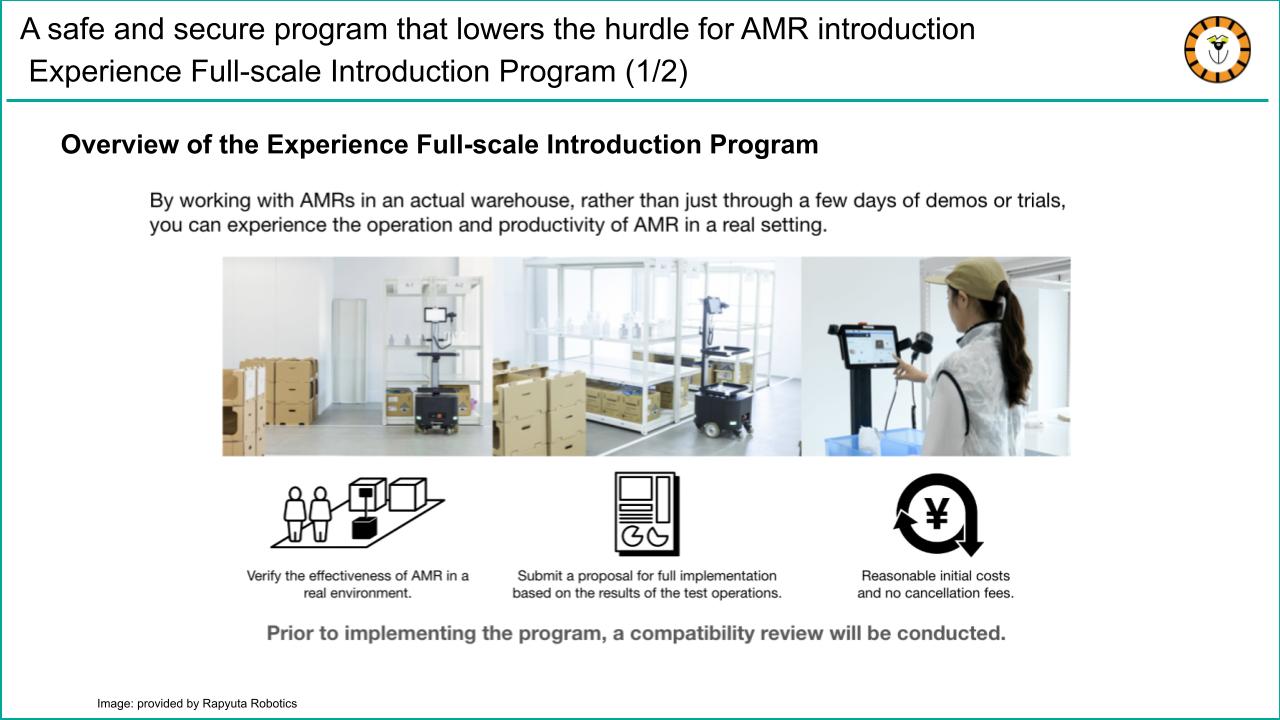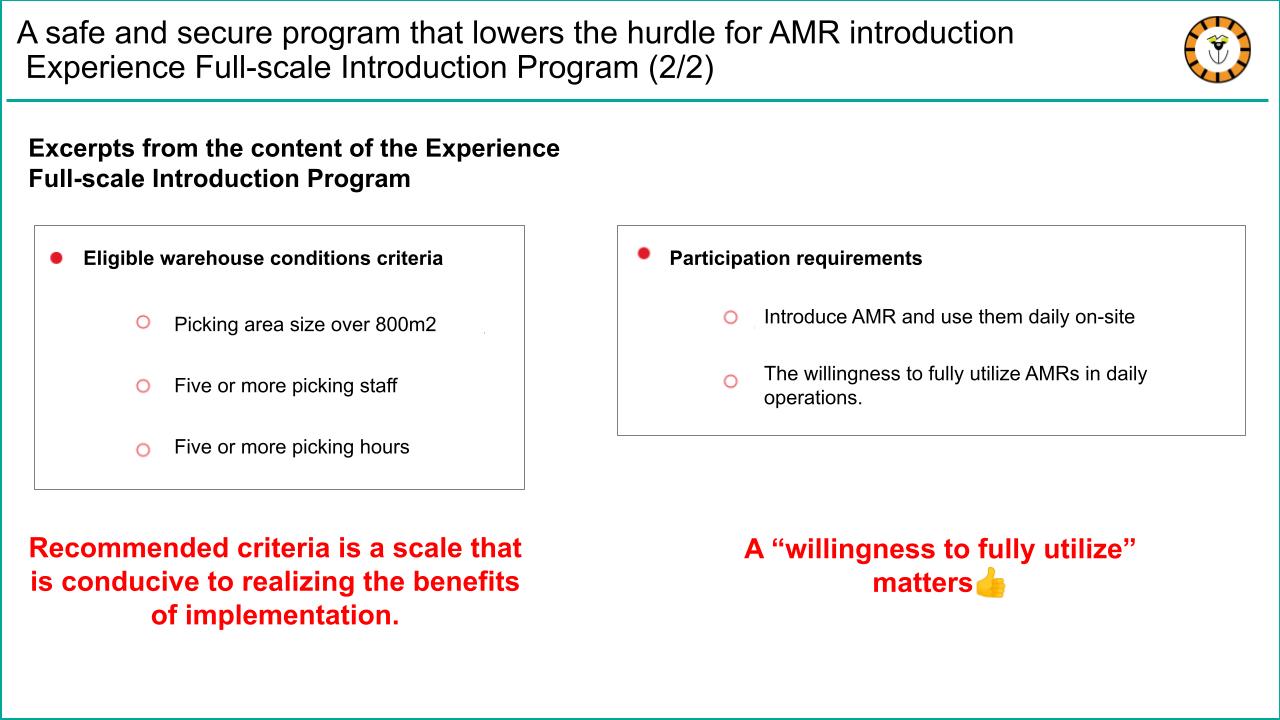 While I had high expectations that AMR would greatly improve productivity, I also felt that I could not be certain that it would be truly effective when applied to the scale and content of the work at my site. With such a generous program, the hurdle to introducing the system is lowered considerably.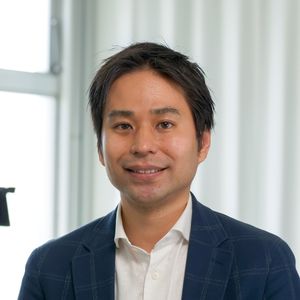 Yes, We feel that this program has led to an increase in customers who are considering the introduction of AMRs more positively than before. By accumulating experience in introducing AMRs, we have gained confidence in committing to the effectiveness of their introduction.
Thorough customer success to ensure clients' success.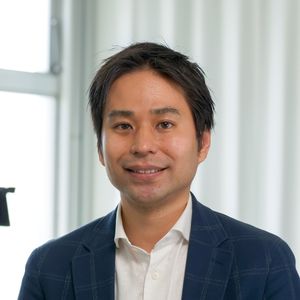 The second feature on the business and support side is the enhancement of customer success, which means that we walk alongside our customers until they fully achieve the benefits of AMR implementation, fine-tuning and improving to fit their specific needs. Our customer success team works closely with each customer to fit and integrate our solutions into their operations, ensuring that the benefits of implementation are maximized quickly and effectively. We often receive feedback from our customers that they feel more secure with our customer success approach than with solutions from overseas providers.
It is certainly reassuring to know that Rapyuta is dedicated to customer success as a provider. Can you share more about the specific details of customer success?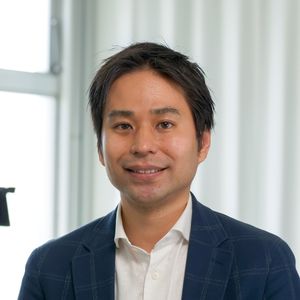 Our Customer Success team visits customers once a week on a regular basis to check on their challenges and the status of their solutions. The frequency of communication is approximately once a week, and during the initial stages of implementation, the frequency is higher to repeat feedback and improvements in shorter cycles. As things settle down, the frequency decreases slightly. While it may seem like a lot, we use this speed to quickly consider customer feedback and propose improvements to operational activities using AMR.
Once every quarter, we hold a large-scale review meeting with our customers to summarize the quarter, share future goals and activity plans.
During these communications, we always adhere to a style of proactively proposing improvements. Instead of passively receiving challenges from customers, we extract their challenges and encourage necessary changes from both sides. To maintain this style, we require not only the technical ability to continuously improve the content of our solution but also a deep understanding of logistics operations that is on par with our customers. Our Customer Success team has members who are knowledgeable about logistics operations, and we propose the best ways to use AMR after understanding the customer's business processes.
That's amazing! 😮 The level of dedication and enthusiasm from the Customer Success team is truly impressive, and it's a testament to their commitment to constantly improving and meeting the needs of their customers.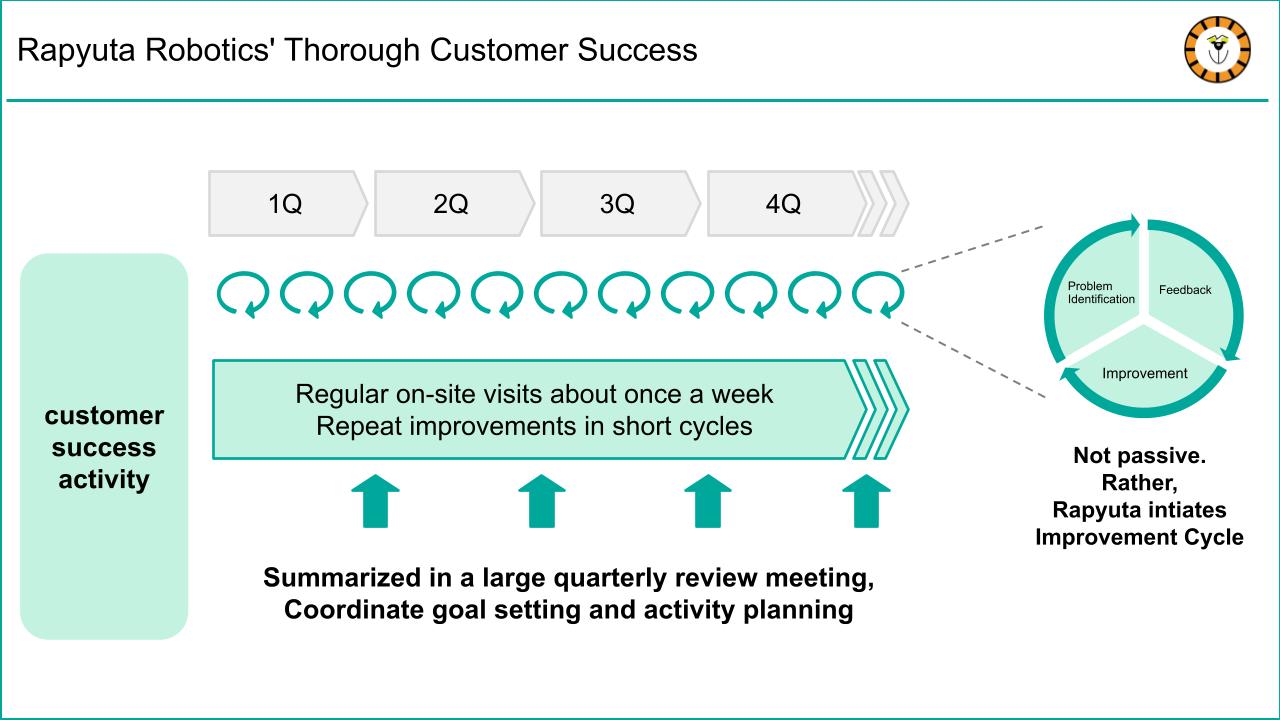 Customer feedback obtained through customer success program accelerates the development of solutions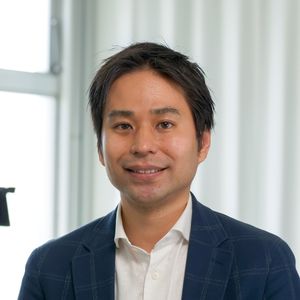 Since we focus on customer success, we receive a lot of feedback from our customers. From this feedback, we prioritize incorporating features and services that benefit everyone, not just specific customers. For example, the Picker Guidance System, which suggests the next picking location for the AMR, was born from customer feedback. We also added support for loading cardboard in addition to foldable containers, and implemented a fire shutter integration that automatically moves the AMR to a safe location when a fire alarm is triggered. We also have a productivity tracking feature that displays the productivity of individual workers on a dashboard.
By providing attentive support for individual customer needs, we are able to evolve our solutions. This creates a positive cycle where we can provide higher quality solutions to all of our customers.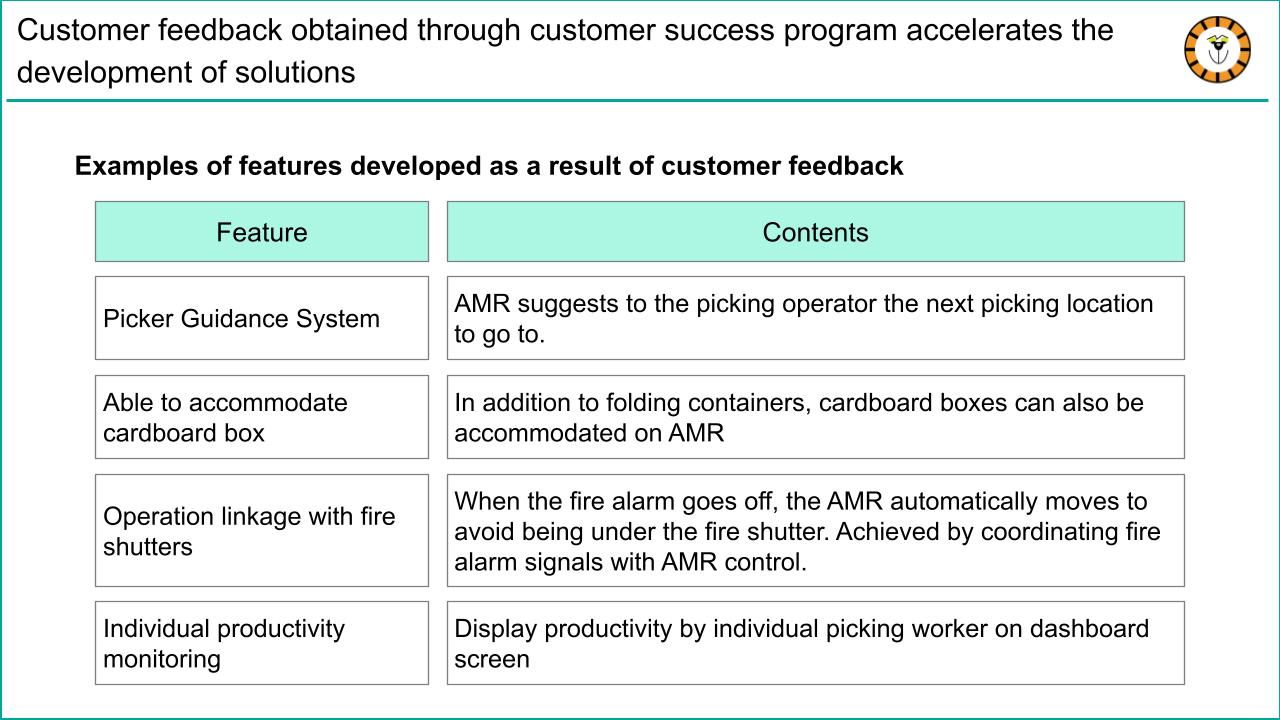 They may be small details, but they are actually important features. Rapyuta's ability to make these kinds of improvements also reassures me that you have a solid system and a high level of support.
Future prospects of Rapyuta Robotics.
Finally, please share with us your outlook for the future to the extent possible.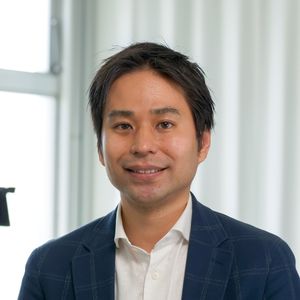 As for the information that we have disclosed, in addition to the recently released large-sized AMR "PA-AMR XL", we also offer autonomous forklifts. We also have plans to expand overseas as a Japanese venture. Our plan is to test the waters in the United States in 2022 and make a full-scale entry in 2023.
At Rapyuta Robotics, we aim not only to provide robot solutions, but also to provide a platform (something like a brain that effectively moves multiple robots) for more effective and efficient use of robots. As our own lineup of robots expands, they will be able to smoothly collaborate with each other, and the types of tasks and items that they can handle will also expand. In addition, we will be able to support other companies' robots and material handlers, and integrate them into the same platform, or "brain", to easily create highly productive workflow processes. This will bring us closer to a state where all robots and material handlers are optimally coordinated using the same platform, creating highly productive workflow processes.
Thank you very much. It's exciting to think about a future where all robots and material handlers can easily collaborate, and we are looking forward to your expansion overseas. We appreciate this opportunity and look forward to further developments in the future. Thank you very much.
Editor's Note
I am very grateful to Mr. Mori of Rapyuta Robotics for taking time out of his busy schedule to talk to us in depth about AMR. It goes without saying that their AMR technology is an excellent solution, but I also feel their strength as an organization in how they fit it into business through customer success and adoption programs with performance-based incentives. I have also talked with other members of Rapyuta Robotics, and while they all seem to be highly skilled and sharp, they also have a commitment to achieving results that I find admirable.
As for the vision of various robots and material handlers collaborating easily and efficiently, it is an ever-growing market, and I am excited to see how Rapyuta Robotics will expand within it.
Their expansion to the US is also fascinating. (I don't know much about the logistics industry in the US, to be honest 😑, but) the solutions developed in Japan, with its meticulousness, may have an even greater impact in the US. Given that labor costs are higher in the US, the effects could be significant in that regard. I hope they will also thrive in the US.